Spitfire design for Battle of Britain visitor centre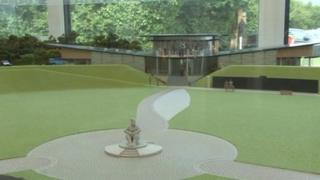 Building is about to get under way on a visitor centre designed to help future generations understand the heroism of "the few" during the Battle of Britain.
The centre, at the National Memorial to The Few at Capel le Ferne in Kent, will be in the shape of a Spitfire wing.
It will tell the story of the WWII battle fought by RAF pilots against the Luftwaffe over Kent and Sussex in the summer and early autumn of 1940.
The visitor centre is due to be open in time for the 75th anniversary in 2015.
Chairman of the Battle of Britain Fighter Association, Bob Foster, who flew over 40 sorties, is the last surviving member of his squadron.
"We were all frightened in a way, I suppose, but your adrenalin is flowing and you are concentrating on either not being killed or shooting down somebody else," he said.
"That is all you are thinking about in those few minutes, and then it's all over."
The Battle of Britain Memorial Trust has raised £2.5m to begin building The Wing but still needs another £1m to complete the project.
The national memorial, which has the names of the 2,927 pilots who flew in the Battle of Britain inscribed on 15 panels, was unveiled in 2005.
Visitors are greeted by a wall bearing Winston Churchill's comment: "Never in the field of human conflict was so much owed by so many to so few".
Richard Hunting, chairman of the memorial trust, said: "Hitler had thought that he could probably invade the British islands, having taken over France with comparative ease.
"He was ready to invade Britain but his people realised he couldn't do that unless he had control of the air.
"The Royal Air Force denied him control of the air and that was the Battle of Britain."