Sittingbourne recycling plant fire prompts smoke alert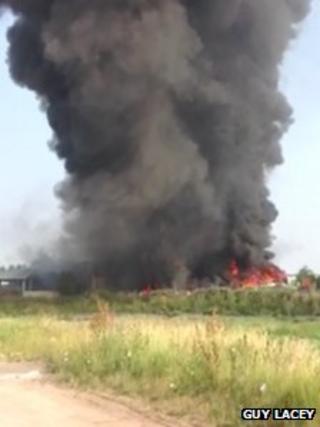 Smoke is billowing over Sittingbourne from a fire at an electrical recycling centre, where 10 fire engines are tackling the blaze.
The blaze, in Gas Road in the Milton Regis area, broke out just after 08:00 BST, Kent Fire and Rescue Service said.
Witnesses have described seeing thick black smoke billowing over the town and an area of the site ablaze.
Residents have been advised to keep windows and doors shut as a precaution because of the large amount of smoke.
'Sun blocked out'
The fire service said two men believed to be in their 20s had been treated at the scene after inhaling smoke and taken to hospital by ambulance.
At the height of the incident, about 50 firefighters were at the scene, but the blaze was brought under control by about 13:00 BST and being tackled with compressed air foam.
Resident Rodney Clark said the smoke was black and acrid and smelt of burning electrical equipment.
He said the plume blocked out the sun for a while and people near the scene could hear things inside the plant exploding.
The clouds of smoke were coming out of the recycling centre's extractor fans and from the eaves of the building, he added.