Dartford Crossing: Unpaid tolls 'could reach £21m'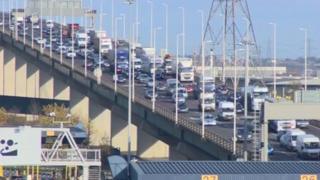 Plans for the Dartford Crossing to move to a cashless charging system could cost millions of pounds in unpaid tolls by foreign drivers, the BBC has learnt.
Barriers will be removed from October next year and motorists will be charged via number-plate recognition cameras.
The Highways Agency has said this will improve congestion, but its own figures suggest it could cost as much as £21m a year in unpaid charges.
Spokesman Nigel Gray said systems would be in place to detect foreign vehicles.
New crossing
He said there would also have to be a European debt recovery agency.
Natalie Chapman, of the Freight Transport Association, said non-payment of the congestion charge in London, along with the low emission zone and parking fines, was already a "real issue" with foreign vehicles in London.
"I think the situation is going to be far worse for the Highways Agency, potentially, given the very high volumes of foreign-registered vehicles using its networks, particularly around the Dartford area," she said.
Motorists using the Dartford Crossing between Kent and Essex have been plagued by congestion on a daily basis for several years.
In an effort to combat this, three locations have been put forward as possible sites for a new River Thames crossing between the two counties.
The existing Dartford to Thurrock crossing, which consists of the Queen Elizabeth II Bridge and two tunnels, is used by 140,000 vehicles a day.
A public consultation on the three options runs until 16 July with the results announced in the autumn.
BBC Radio Kent is hosting a debate on plans for a new Thames river crossing between Kent and Essex.