Illegal immigrants rescued from tanker on Dover ferry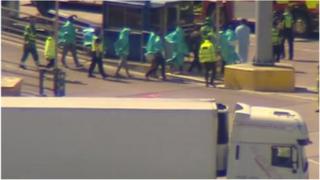 Fifteen illegal immigrants have been found in a tanker on board a P&O ferry at Dover's Eastern Docks.
All of them required medical treatment with two suffering breathing difficulties and heat exhaustion, after being found on the Spirit of France, at about 08:45 BST.
Six fire engines and specialist equipment were sent to the port, Kent Fire and Rescue Service said.
Police, UK Border Agency and HMRC officers were also called to the scene.
It is understood that the migrants were found after banging was heard from the sides of the lorry as the 07.45 BST Calais-Dover ferry berthed in Dover's Eastern Docks.
A UK Border Agency spokesman said Kent Fire and Rescue Services and South East Coast Ambulance Service had also attended.
Heat exhaustion
Police said a powder found on board was non-hazardous.
An ambulance service spokesman said 12 people were "non-critical" but two were taken to hospital with breathing difficulties and heat exhaustion.
They are understood to have been discharged soon afterwards.
Two drivers have been taken into custody.
A Port of Dover Police spokeswoman said that all 15 migrants had been handed to the Border Agency for processing.
"The examination of the tanker has been completed and the powder initially found in the vehicle has been confirmed as non-hazardous," she said.
"The port remained operational throughout the incident."
A P&O spokesman said the company was helping the police with their investigations.