'Record sales' for advance Kent County Show tickets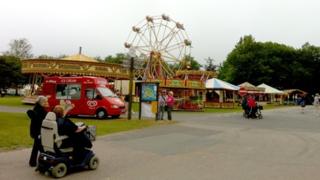 Advanced ticket sales for the Kent County Show at Detling are at record levels, according to the organisers.
Surrounding roads, gateways and car parks have been improved after last year's event when visitors were turned away on all three days of the show.
Car parks were too muddy to use despite the use of 200 tonnes of bark chippings and 100 tonnes of road planings.
In April, Kent County Council announced it would not be exhibiting at the show, blaming "tough financial times".
Kevin Attwood, the chairman of the County Show: "We have made considerable investment improving roads and improving gateways.
"We've provided temporary tracking should we need it and we don't anticipate any trouble getting people in and out of the showground."
In 2012, 50,000 people went to the three-day show, compared to 67,000 in 2011.
The organisers said the 2012 show had made a loss of £270,000.
"Our tickets sales to date far exceeded any previous year's advanced sales, and online sales and the ability to print out your pass seems to be appealing to people this year," Mr Attwood said.
He said between 5,000 and 6,000 tickets had been sold online by the time the show opened.
The show is open between 12 and 14 July at the Kent showground in Detling.