Sewage leak kills dozens of fish at Swalecliffe Brook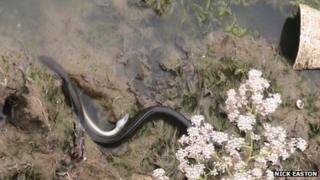 Dozens of fish, including eels, are thought to have died in a Kent river following a sewage leak.
The Environment Agency said pollution entered Swalecliffe Brook near Canterbury following a pump failure at a Southern Water treatment works.
It is not known how many fish and eels died following the leak on Saturday, but officials said it was "dozens rather than hundreds".
Southern Water has apologised for the "unacceptable" incident.
In a statement, the water company added: "The site is now working as it should but is being manned 24/7 as a precaution.
"Mitigating any environmental impact, while ensuring disturbance to customers is kept to a minimum, is a priority for us.
"Customer service teams are in the area updating residents and we continue to liaise with the Environment Agency.
"We know incidents like this are unacceptable and we will be carrying out a full investigation to find out what happened."
A spokesman for the Environment Agency said: "Southern Water confirmed on Sunday morning that sewage pollution occurred at the Swalecliff treatment works.
"This was due to a pump failure but pumps are now working again and the pollution has stopped.
"We have identified some dead fish downstream of the sewage works and we are investigating to determine the full impact the pollutant."