Rochester Airport plan consultation opens to public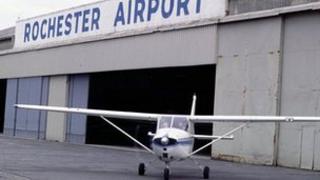 Plans to expand an airport in Kent have been opened up to two months of public consultation.
Rochester Airport's two grass runways would be replaced and a business park developed under the £4m proposal.
Medway Council said the scheme could create hundreds of jobs and encourage heritage tourism.
A public exhibition has opened at the Innovation Centre, in Chatham, for two days. The council has insisted noise and safety issues have been addressed.
Some opponents had expressed concerns about the extent to which very populated areas would be under flight paths.
Alan Jarrett, deputy leader of Medway Council, said: "We want to put a plan in place for Rochester Airport that will help us decide how best to ensure its future by maximising its potential for jobs and tourism."
One of the grass runways on site will be closed and replaced with a new parallel grass and paved runway.