Two Kent homes catch fire after lightning strikes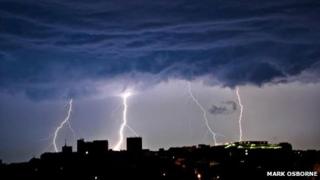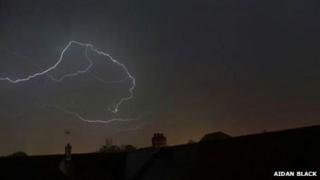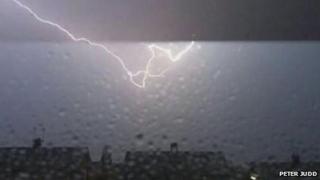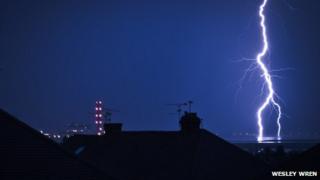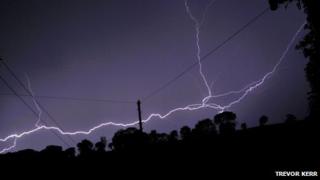 Two homes caught fire after being hit by lightning strikes during violent storms in Kent overnight.
A house in Octavian Drive, Lympne, was set alight at 02:00 BST and a property in Audley Avenue, Gillingham was struck at about 04:30.
Kent Fire and Rescue Service said no-one was hurt in either incident.
Fire crews also had to pump water out of a house in Sandgate when it became flooded because of heavy rainfall during the stormy weather.
'House shook'
A spokesman for Kent Fire and Rescue Service said crews spent about an hour extinguishing the fire in Gillingham.
He added: "Firefighters wearing breathing apparatus, used a hose reel to tackle the blaze in the ground floor living room of the two-storey house, after it was hit by lightning.
"The family were alerted to the blaze by their smoke alarm and there were no reports of any injuries."
Owner Stephen Foden said the "whole house shook a little bit and popped".
He added: "Then I heard the smoke alarm and didn't really think anything of it but went downstairs to just to check and could see the smoke and the fire in the corner of the living room."
It is believed the lightning hit the television aerial first and then travelled down the cable into the lounge.
The storms marked the end of a three-week heatwave which saw temperatures reach 33.3C in Charlwood, near Gatwick, and 33.5C at Heathrow and Northolt on Monday.
Trains were disrupted between Redhill in Surrey and Tonbridge in Kent because of fallen electrical cables at Penshurst.
Flooding near Gillingham in Kent also caused delays and cancellations to services between Sheerness-on-Sea and Sittingbourne.
Trains between Faversham and St Pancras International station in London and Strood and Tonbridge were also affected by the weather.