Volunteers could monitor Folkestone CCTV cameras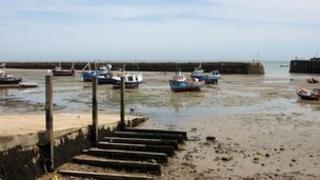 Volunteers could monitor CCTV cameras in Folkestone in a move to save money, the manager of the Kent seaside town has suggested.
John Barber said the town's 43 cameras were currently monitored for about 32 hours a week.
They have developed numerous faults and Shepway District Council has been told it will cost more than £100,000 to upgrade the system.
Operating it currently costs about £70,000 a year.
If approved, the upgrade would see the number of cameras reduced to 25, but featuring improved technology.
The Hythe and Folkestone Area Partnership Against Crime has argued that volunteers could be used to monitor cameras to keep costs down.
'Cheap cost-cutting'
Folkestone town centre manager and partnership member Mr Barber said the cameras were not sufficiently monitored at the moment and that volunteers would be a great help in keeping them manned for longer.
"I think it's something like 32 hours a week, particularly on Friday and Saturday," he said.
"Crime doesn't take place just on Friday and Saturday."
But Nick Pickles, director of Big Brother Watch, said: "What kind of a person would volunteer to watch their friends and neighbours walking about the town centre?
"These are not trained professionals, this is not a high standard regime. It's just cheap cost-cutting."
The council has not decided whether it will pay for an upgrade.
Shepway councillor Peter Monk said: "It is a non-statutory item, it is discretionary spend and it would have to be asked whether or not it was right for the taxpayers of Shepway district as a whole to pay for that service for the benefit of Folkestone.
"If the districts were to provide that service constantly monitored in order to meet the police requirements, then there would need to be a very large increase in the amount of money which is spent on staff for that unit."