Foreign drivers owe Kent councils thousands in unpaid fines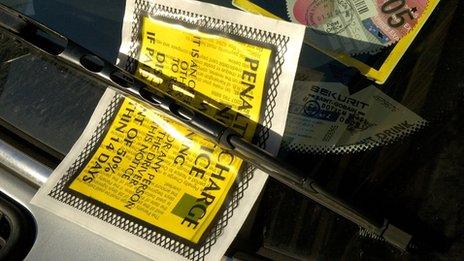 Hundreds of thousands of pounds in unpaid traffic fines are owed to councils in Kent by foreign drivers, the BBC has learned.
BBC Radio Kent found most penalty notices issued to foreign-registered drivers are not collected due to difficulties in tracing them.
Most of the fines are issued in Canterbury, Ashford, Dover, Shepway and Swale.
In Ashford, just 16.6% of such fines issued last year were paid.
Illegal parking in the UK is a civil offence so councils cannot request drivers' names and addresses from their home countries.
In France and some other European countries however, illegal parking is a criminal offence, dealt with by the police.
Ten of the 13 councils in Kent gave the BBC information on tickets issued to foreign-registered vehicles.
Most of the drivers are fined in tourist destinations in East Kent and near the Channel ports.
Four out of five parking tickets issued to foreign motorists in those areas goes unpaid.
In one example, Ashford issued more than 1,800 such fines last year, totalling more than £122,000.
Only 300 of those fines, amounting to £14,000, were paid and the rest is outstanding.
Philip Gomm, from motoring charity the RAC Foundation, said Kent had a much bigger a problem with the issue than other parts of the country, and urged local authorities to consider how they would retrieve the fines.
A private company called Euro Parking Collection has been hired by six councils in Kent to work with Vehicle Licensing Authorities (VLAs) to collect some of the outstanding fines.
Stuart Hendry, the firm's business and legal manager, said: "To get all countries to agree a framework of data sharing is not going to be easy, but that's not to say that nothing can be done.
"Each VLA is approachable in each country and most VLAs in Europe are willing to provide the information.
"You just have to be slightly inventive and proactive and practical about how you go about doing that."
Nigel Collor, from Dover District Council, said the authority was owed nearly £45,000 by foreign drivers this financial year.
Almost £33,000 has been paid back, leaving £12,000 outstanding.
He said the authority got the money through a combination of work by Euro Parking Collection, and drivers voluntarily paying the fines.
"Some of our car parks are less than 200 yards from the port," he added.
"But I don't think our problem is as bad as some other places."
Related Internet Links
The BBC is not responsible for the content of external sites.