Lewes publicans object to Premier Inn plans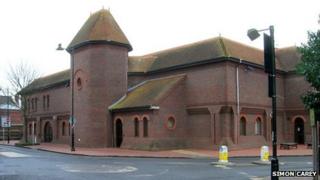 Fifteen publicans have written to South Downs National Park Authority objecting to proposals for a new hotel in Lewes.
Developer Quora wants to demolish the old magistrates' court and build shops and a hotel which it says will be operated by the Premier Inn chain.
An application for an alcohol and restaurant licence has also been made.
The publicans said they fear the plans could put them out of business. Quora said the development would create 60 jobs.
Tony Leonard, from the Snowdrop Inn, is one of the 15 who signed an open letter to the authority, which has called in the plans because the proposed scheme is in a conservation area.
He said: "The national park authority has the duty to protect the local economy and social well-being.
"We believe our pubs contribute hugely to both."
The authority is expected to make a decision at a meeting on 12 September.