Ex-priest Malcolm McLennan sentenced for abusing altar boy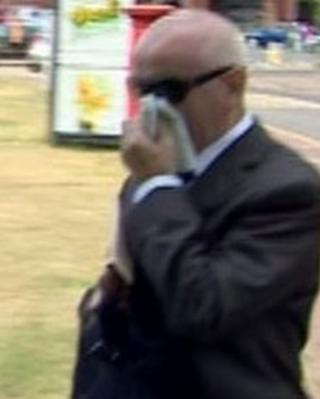 A disgraced former Catholic priest has been given a three-year community order after admitting sexually abusing an altar boy in the late 1980s.
Malcolm McLennan, 69, then an assistant priest in Walderslade, Kent abused the boy when he was 12 and 13.
McLennan, who has a string of previous convictions, lives in a closed church community in Quedgeley, Gloucester.
A judge at Maidstone Crown Court ordered him to attend a treatment programme.
McLennan was also put on the sex offenders register for five years.
Judge Jeremy Carey told the court it was "highly likely" the non-custodial sentence would be misconstrued as being unduly lenient.
But he said there was "no proper and justifiable purpose" in sending him back to prison as he had already been punished not long ago for offences in the 1980s.
After the hearing, the victim said was "disgusted" at the sentence, which he felt should be custodial.
"I feel like he has got away with it," he said.
'Nothing was done'
McLennan pleaded guilty at an earlier hearing to indecent assault between 1987 and 1989.
In a statement read to the court, the victim said no amount of counselling would ever help him to get over the attacks fully.
The victim's statement said he reported the abuse to another priest but nothing was done and he was made to feel like a liar.
McLennan was jailed for 18 months in 2009 for gross indecency and indecent assault against teenage boys while he worked at St Augustine's Church in Tunbridge Wells in the 1980s.
The Roman Catholic Archdiocese of Southwark said that in 1989 he also pleaded guilty to charges of gross indecency.
At that time it emerged he had two similar previous convictions pre-dating his training to the priesthood.
The diocese said he was removed from public ministry in 1989 and dismissed from the clergy in 2011.
It said it was "disturbing" that the Walderslade victim's allegation was not taken further but the clergy reported to have been given an account of the abuse had since died, making it impossible to investigate the matter.
"The archdiocese greatly regrets the suffering that has been caused to those affected by Malcolm McLennan's behaviour," it said.