World War II bunker found at Dover Hospital site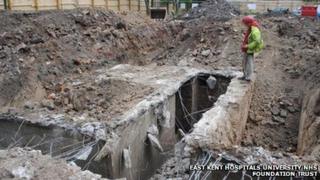 A World War II bunker has been discovered by construction workers at a Kent hospital.
The workers also found a number of prehistoric flints on the site of the new Dover Hospital site.
The site was examined by archaeologists before the bunker was removed, but it was not deemed to be significant.
An excavation of 50m by 24m (165ft by 80ft) and 4m (13ft) deep, needed to clear the site, has delayed the construction project by two months.
Finbarr Murray, from the East Kent Hospitals University NHS Foundation Trust, said: "We knew a bunker existed but the sheer size of the bunker was a surprise."
Contractors on the site also found asbestos under the concrete foundations of the old mortuary and pathology buildings.
The asbestos has also been removed.
The original completion date of December 2014 has been adjusted to February 2015, the trust said.