Kent eel death investigation launched by Environment Agency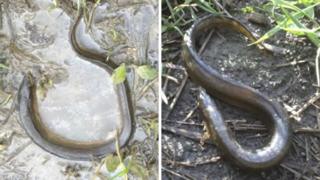 A weed-cutting programme along a river in Kent may have been killing protected eels, say anglers.
The Environment Agency has launched an investigation into its own maintenance operation along the River Stour.
Anglers have complained that dead eels, protected under European law, have been found among the weed cuttings.
Ian Nunn, from the agency, said the maintenance plan would be completely reviewed if eels are found to have died.
He said: "If it means that we have to have more people here sifting through the weed and putting eels back, that's exactly what we'll do in the future if we need to."
'Significant flooding'
However, he said the programme was essential and would continue.
"That weed eventually will end up in Canterbury, will block structures and could well cause fairly significant flooding through the city centre," he said.
The Environment Agency said it would prosecute anybody breaking the law governing the eels' protection.
Andy Green, who is an angler, said he found about five or six large eels dead in weed debris on the riverbank, along with several smaller eels.
"These realistically are the ones coming up stream to populate the rivers and lakes in the country," he said.