Kent school group ambushed at gunpoint in Africa, headmaster says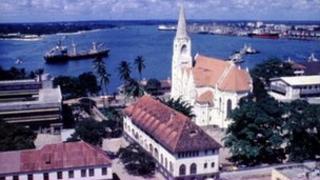 Pupils and staff on a school trip in Africa were forced from a vehicle at gunpoint in a roadside ambush, their head teacher has said.
The group of 14 teenagers, aged 15 to 18, and two members of staff, from Cranbrook School in Kent, were held up in the Tabora region of Tanzania.
Headmaster John Weeds said money, cameras and mobile phones were taken.
He said the regional police commissioner assigned a police escort to the group for the rest of the trip.
Mr Weeds added that the grammar school would not be deterred from taking pupils to east Africa again.
'Shaken but unharmed'
Cranbrook School has been sending students there for about 30 years to work with local people on aid-related projects and learn about their culture.
Mr Weeds said the pupils, who were on a four-week trip last month, were shaken but uninjured in the robbery.
The British High Commission in Dar es Salaam was informed about the incident, he added.
"The vehicle was not targeted, and there were a number of other local people in the same queue of traffic involved. It wasn't just about the students," he said.
"The students were fine. There is no accounting for the emotional effect of such an episode as that is difficult to diagnose, but they came back in high spirits."
'Broadening horizons'
He said the school would review what had happened, but was very enthusiastic about sending students to the developing world.
"It's a very valuable way of broadening horizons," he said.
Mr Weeds also praised the response of the Tanzanian police to the robbery.
He said four men had admitted robbery, and added: "We understand that the police have got to the bottom of who was responsible."
The parents of the students involved have been informed.
Travel advice from the Foreign and Commonwealth Office (FCO) is that most visits to Tanzania are trouble-free, but violent and armed crime is increasing and there is an underlying terrorism threat.
The FCO referred to a recent acid attack on two British women in Zanzibar, violent disturbances in the district of Mtwara and two recent ferry disasters, and urged British nationals to follow its safety and security advice.
It said about 75,000 British nationals visited Tanzania each year.