Turner Contemporary greets millionth visitor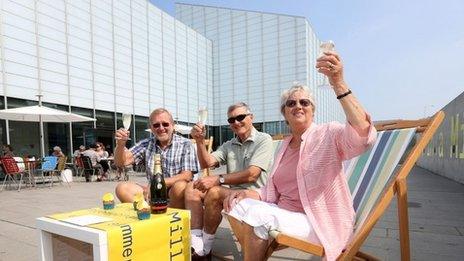 A Kent art gallery built as part of efforts to regenerate one of England's most deprived seaside towns has welcomed its millionth visitor.
Sue Lewis, 69, from Hythe, was presented with 20 bottles of sparkling wine to celebrate the landmark for Margate's £17m Turner Contemporary.
The gallery, opened in April 2011, is seen by Thanet Council and Kent County Council as a major draw for tourists.
Director Victoria Pomery said "It is brilliant to see the town buzzing."
She added: "The gallery has made a real difference to the local economy and has helped to change perceptions about Margate."
Mrs Lewis said it was a surprise to discover she was the millionth visitor.
"We had been joking about it as we walked in and saw the banners," she said.
"As I walked forward with my husband and our friend, they pushed me forward so that I was the millionth visitor."
Before the Turner opened, it was predicted that about 300,000 people would walk through its doors in just over two years.
Officials said the gallery has generated more than £21m for Margate, ranked fifth in a study of deprived English towns by the Office for National Statistics (ONS) in 2010.
County councillor Mike Hill said: "It has created jobs, encouraged new businesses to the town and will go on to be a lasting legacy to driving the development of the county and the South East."