Antony Gormley sculpture Two Stones gets new home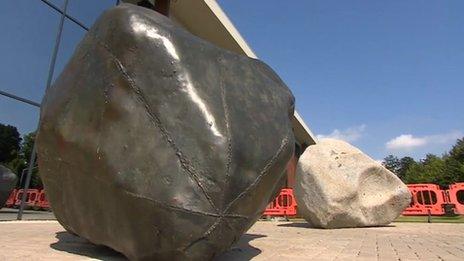 A sculpture by Angel of the North creator Antony Gormley has been moved to its new home following restoration work.
Gormley's piece, entitled Two Stones, was winched into place outside the Kent History and Library Centre in Maidstone.
It previously sat at Singleton Lake in Ashford but had to be removed in 2010 after it was vandalised.
The stones were repaired by specialists in Telford, Shropshire.
The 1994 Turner Prize winner was commissioned by Kent County Council (KCC) in 1979 to create the piece while he was completing his studies at Maidstone College of Art.
It is composed of an eight-tonne water-hewn granite from Scotland and a bronze and concrete replica.
KCC project co-ordinator Matt Hyland said: "The Gormley Two Stones sculpture is a unique and valuable asset of KCC and due to the poor condition due to the vandalism, the sculpture had to undergo major refurbishment works by specialists to return it back to its former glory.
"There are similarities with the original sculpture's location, where change from new development was taking place.
"The scale and form of the sculpture sits in stark contrast to the new contemporary library building, being of a suitable scale and form that will enable them to become part of the character of the area."
He added: "Antony Gormley has since become one of the nation's most prolific sculptors, creating pieces that are provocative, thoughtful and deeply involving wherever they are.
"KCC is proud to have commissioned his first work and has worked with him to ensure that it achieves the quality of location and prominence that this seminal work deserves."
Related Internet Links
The BBC is not responsible for the content of external sites.