Traffic ban may return to Canterbury's Westgate Towers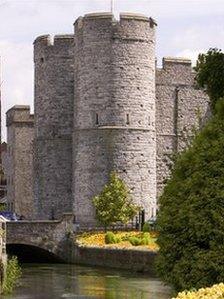 A temporary ban on traffic driving through Canterbury's Westgate Towers may be brought back again under plans being consulted on.
Kent County Council has asked residents whether they want things to remains as they are, the traffic ban to return or other forms of control.
Canterbury City Council said the 12-month ban, which ended in April, had lowered pollution.
However, the county council said the ban was only temporary.
Councillor David Brazier, member for transport, said: "We came down to a shortlist of five or so [suggestions], which do make sense and we're going to put them out to consultation.
"And the probability is that the scheme which meets with the majority of approval will be adopted."
But Steve Coombs, from Get Canterbury Moving, said things should stay as they are.
"Instead of doing things piecemeal, which is what we've been doing so far, if we can reduce traffic full stop in the city then we won't have as much traffic around the towers anyway," he added.
Related Internet Links
The BBC is not responsible for the content of external sites.