Kent 'adoption party' hailed as a success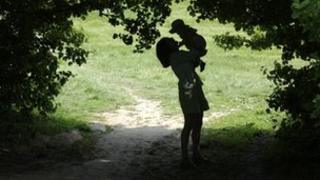 An "adoption party" for 54 Kent children has enabled 14 of them to find potential parents.
The event was the first to be held by a local authority after a pilot ended in 2013, Kent County Council (KCC) said.
Councillor Jenny Whittle said: "It was difficult to find families for these children and their paper profiles were overlooked."
The day gave people a chance to meet children they might otherwise just see in a photograph or video.
Ms Whittle, KCC's cabinet member for children's services, said: "When the adoptive parents met them face-to-face, they made a connection and now the children have hopefully found the loving families they need."
'Opened my mind'
The day was run in partnership with charities Coram and the British Association of Adoption and Fostering (BAAF).
One adopter said: "You see a child on a piece of paper but when you meet that child you get a whole different picture of what the child's about.
"I was quite adamant I wanted a little girl but being here today there's sibling groups, little boys - it's opened my mind to a lot of other family dynamics."
Activity days, sometimes called adoption parties, were run in the UK for a time from the mid-1970s, but have been held in the USA for more than 30 years.
A KCC spokesman said the council was planning to hold more of the events.