Battle of Britain pilot starts Kent visitor centre build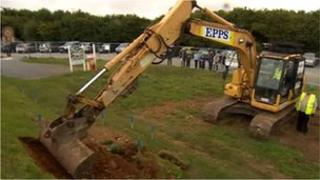 A Battle of Britain pilot has performed a groundbreaking ceremony at the site of a new visitor centre honouring the RAF pilots who saw off the Luftwaffe.
Wing Cdr Bob Foster, 93, used a digger to start construction work on the centre, which is being built at the National Memorial to the Few in Kent.
The centre at Capel-le-Ferne will tell the story of the World War II battle over Kent and Sussex in 1940.
The building will be shaped like the wing of a Spitfire.
Wing Cdr Foster, who flew over 40 sorties, is the last surviving member of his squadron and is chairman of the Battle of Britain Fighter Association.
According to Richard Hunting, chairman of the Battle of Britain Trust, Wing Cdr Foster is one of between 20 and 40 pilots still alive from the 2,927 involved in the battle,
'Mad but brave'
Mr Hunting says the centre is being built at the end of an existing memorial, which is shaped liked a three-bladed propeller.
"It will be looking out to sea, and one of the significances of looking out to sea is that it's France," he said.
"That's where the opposition [came from} in 1940, in huge clouds.
"And these men who took off to confront them, very often they were perhaps three or six aircraft and there were 100 of the opposition.
"They were - well, you could say mad - but they were very brave."
Mr Hunting, who said veterans were "absolutely thrilled" with the plans, said £1m still had to be raised towards the £3.5m project.
The visitor centre is due to be open in time for the 75th anniversary of the battle in 2015.