Sheppey bridge crash: Insurance headaches follow pile-up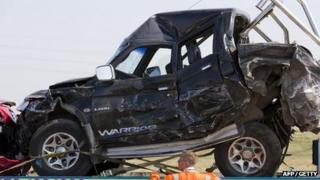 As the dust settles after one of the UK's biggest multiple-vehicle accidents, motorists' attention is turning to the insurance conundrum - and how to work out who is at fault.
Incredibly, in an accident involving 130 vehicles, nobody died in the pile-up on the A249 Sheppey crossing, although 35 people were injured - eight seriously.
Some may look for compensation for their injuries, others will just want to get their cars back on the road - or replaced - and sort out who pays for it.
In all cases, the key is establishing blame - and lawyers and insurers say this can prove an extremely complex challenge.
Safety questions
The initial accident happened last Thursday morning in poor visibility, with fog shrouding the bridge that links the Isle of Sheppey with the rest of Kent.
A number of separate crashes followed over a 10-minute period, according to witnesses.
Reports suggested some of the vehicles did not have lights on, despite the conditions; others may have been driving too fast.
But questions have also been raised about the safety of the bridge, which opened in 2006.
The four-lane crossing has a 70mph speed limit, but concerns have been raised about the lack of lighting and absence of signs that could have warned drivers of fog or to slow down.
Specialist expertise
Ben Rogers, a personal injury specialist with legal firm Stewarts Law, said: "With more vehicles involved, there may well be greater argument about who was at fault, and... which collision was in fact responsible for causing the damage complained of."
In such circumstances drivers might need to use specialists to investigate and obtain copies of police reports and witness statements, he said.
"Your own insurer might suggest a firm, but the difficulty is you're not necessarily going to get the best solicitor for the job."
The Association of British Insurers (ABI) said it is essential anyone involved notifies their insurance company.
'Years' to settle
Spokesman Malcolm Tarling said: "If you have fully comprehensive [cover], liability is not an issue. With third party, fire and theft you can't normally claim under your own policy but you have to claim from the motorist who was at fault.
"That procedure may take a little longer to establish."
Mr Tarling said in complex accident scenarios even drivers with fully comprehensive insurance policies can expect lengthy delays to claims.
And Mr Rogers said compensation for personal injuries could take anything from under 12 months to two or three years, depending on the nature of the injuries.
But whatever the procedure, one thing is for sure: those deemed responsible could face a hefty increase in future insurance premiums.
Mr Tarling warned: "If there is a large liability claim, that certainly could have an impact on premiums.
"But generally, the larger the claim, the more impact that is likely to have on the premium."
'Getting nowhere'
For plant-hire worker Matthew Bennett, trying to sort out his insurance has proved almost as traumatic as the crash.
He had just paid more than £2,000 having his sports car repaired and resprayed, only to have it wrecked in the multiple shunt.
"It has been a nightmare," he said. "You get passed on from department to department; they don't always ring you back. At the moment I'm getting nowhere."
Mr Bennett is currently off work after suffering multiple injuries when several cars crashed into the back of his beloved Honda.
He is due to return to light duties at his employer in Sittingbourne, but although he has fully comprehensive insurance, his firm will not supply him with a hire car because it is not clear from whom the supplier should reclaim the cost.
"The hire company are looking to claim off the third party that hit me, but there were so many vehicles involved," he said.
"[Work] is about 12 miles away and with my injuries it is a long hop."
By contrast, Andrew Hudson, from Sheerness, has nothing but praise for his insurers, who acted immediately after his car was hit in a straightforward shunt.
"I reported it to my insurance company around midday and by 6.30 I was picking up my courtesy car," he said. "And I'll be claiming back my excess from the person who hit me."