High number of Medway schools 'need improvement'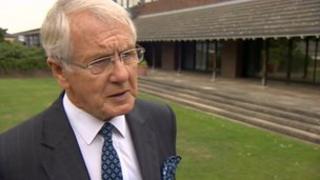 A high number of schools in Medway are inadequate or need improvement, education inspectors have said.
Ofsted said one school required special measures while a pupil referral unit had serious weaknesses.
Fifteen of the 17 secondary schools in Medway are academies, which have opted out of local authority control.
The council said it would write to the government to seek clarification on who was responsible for maintaining standards in academies.
The regulator said secondary head teachers and governors, regardless of whether their schools were council-run or academies, did not generally feel their schools were well known to local authority officers and advisers.
They also expressed doubts about the capacity of the local authority to support schools adequately.
The council said since the government allowed schools to opt out of local education authority control its budget had been slashed by £76m.
Senior Ofsted inspector Bradley Simmons said: "You can't just give up and say 'I'm sorry, you're nothing to do with us'. You actually have to be proactive.
"Sometimes that's going to mean actually knocking on the door of an academy and saying 'I don't think you're doing well enough, can we help you, can we put you in touch with another school, another academy that's doing better in similar circumstances?'"
'Serious weaknesses'
Six primary schools, three secondary schools and a pupil referral unit were inspected during a week in June.
One was judged to be good, three required improvement, and Chatham Grammar school for Boys was placed in special measures.
Silverbank Park, the pupil referral unit, had serious weaknesses, Ofsted said.
Another 10 schools were surveyed by phone.
Ofsted said: "Overall, the proportion of Medway's schools which require improvement or are inadequate remains high.
"It is of particular concern that the pupil referral unit which provides for some of Medway's most vulnerable pupils has been judged to have serious weaknesses.
"It is also worrying that one of Medway's grammar schools is not delivering a high quality education for some of the area's brightest pupils."
Mike O'Brien, the councillor responsible for children's services, said: "The report points out some very positive details and we are heartened by the comments that Medway's ambition to improve standards in schools is universally known.
"I shall now, though, write to Michael Gove to ask for further clarification in regards to Medway's secondary schools as 15 of the 17 here are academies and are not part of the local education authority and the council does not receive any funding for them from government."
Barbara Peacock, director for children and adult services, said the authority had "a very good strong relationship with all our secondary schools", including the academies.
She said: "I personally, our portfolio holder and council officers regularly meet with them so that we can all work to ensure that our area's children are given the best possible start in life."
Medway said its new vision for education would be introduced to head teachers by the end of the month.
Schools were already improving, it added.