Medway Will Adams festival marks 400 years of Japan trade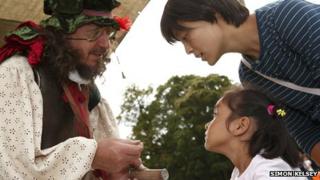 The first Englishman believed to have reached Japan has been celebrated in Medway to mark 400 years of trading between the two countries.
Will Adams, who was from Gillingham, sailed to the Far East in 1598 and began trading and cultural relations between the two countries in 1613.
He was appointed a Samurai and his tale inspired the 1980s TV series Shogun.
A festival is held yearly in Medway but Councillor Howard Doe said this year people were "especially proud".
He said Adams was a shipwright who had worked at the dockyard in Chatham.
Adams sailed to the Far East on board the Dutch-registered Hoop while Queen Elizabeth I was on the throne, but was captured during his voyage, Mr Doe said.
'Founder of navy'
"Eventually they found him so useful, because he could build better ships than any of the locals, that he was adopted by the shogun (military governor) and given all sorts of honours providing that he never left Japan," he said.
"So he really is regarded by the Japanese as the founder of the Japanese navy, and he's also been the reason why we have strong links with Japan now."
Mr Doe said Adams was well known in Japan but less famous in Kent.
But he said the annual festival was growing in popularity and added: "Gradually his name is getting known by more and more people, and I think it deserves to be."
Medway Council said the festival focused on the Tudor England Adams would have known, his experiences as a sailor, and the Japanese traditions he would have encountered.
Highlights included story-telling, Taiko drumming, traditional tea ceremonies, martial arts displays, origami, and Tudor musical performances.
Events were being held at Gillingham Park on Saturday.