Car driver 'witness' to Teynham fatal crash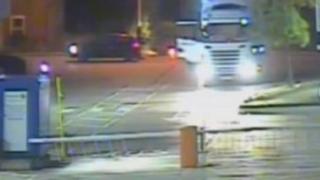 A car driver who stopped at the scene of a fatal crash between a motorcycle and a lorry could be a vital witness, Kent Police have said.
Jeremy Nicholson, 44, from Teynham, died when his Honda collided with a Scania lorry on the A2 in the village on 8 September.
The driver of a dark-coloured hatchback stopped briefly, then drove on. Police said he was not in any trouble.
It is believed the motorist may have been following the motorcyclist.
Sgt Glyn Walker said CCTV footage had been released to try to help trace the driver who could help to build up a picture of what happened.
Mr Nicholson was pronounced dead at the scene of the accident, at 05:40 BST.
The lorry driver, a 74-year-old man from Dover, was not injured. He was arrested on suspicion of causing death by dangerous driving and is on bail until 8 January pending further investigations.