Kent County Council takes action over BBC tobacco interview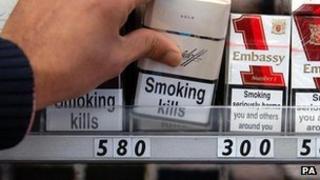 A public health expert is facing disciplinary action by her employer Kent County Council (KCC) after commenting on authorities which invest in tobacco firms, her union says.
Dr Marion Gibbon made the comments in a BBC Radio Kent interview this month.
KCC said it was dealing with an unauthorised media interview and said it was an internal matter. Unite said "freedom of speech" was at stake.
Reports last year raised concerns about KCC's £24m investment in tobacco firms.
Unite's regional officer Ian Methven said: "What is at stake here is the freedom of speech for a public health specialist to speak out on issues well within her remit, and professional competence and expertise.
"We call on the council to withdraw this threat of disciplinary action immediately."
Mr Methven said Dr Gibbon was governed by the ethical code of the Faculty of Public Health and endorsed by NHS England to speak on matters of public concern.
'Tobacco kills'
He said Dr Gibbon was cleared by KCC's press office to speak to the BBC on obesity and was then asked to do a pre-recorded interview on smoking, which was when she made the comments.
Afterwards, her manager said she could accept a warning placed on her record for 12 months, or face a full-scale disciplinary hearing, he added.
In a statement, KCC said: "Kent County Council has been dealing with what appeared to be an unauthorised media interview conducted by one of its employees.
"Any unauthorised statements to the media are a breach of the council's employment policies.
"This is an internal matter between KCC and a member of staff and in our opinion these issues should not be discussed through the media."
The Faculty of Public Health (FPH) said it supported public health professionals who needed to speak out on health protection matters.
'Unacceptable position'
FPH president Professor John Ashton said: "It has long been FPH's position that councils should not invest pension funds in tobacco companies.
"Tobacco is the only legal substance which kills half its customers when it is used as intended."
In the interview, Dr Gibbon was asked whether it was acceptable for councils to promote stop-smoking policies while investing in tobacco companies.
Dr Gibbon, who has worked for KCC since it took over public health in April, said: "I'm willing to stand up and say that it's difficult to have policies that are detrimental to people's health when we are now a public health organisation."
When asked about KCC's tobacco investment, she said: "I don't think it's acceptable but we've still got to have the dialogue to make everyone see that that's not an acceptable position to be in."