TransEuropa £3.4m debt claim rejected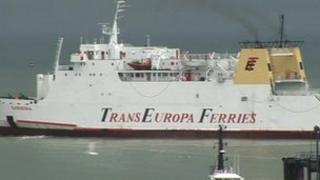 A complaint that a council provided an ailing cross-Channel ferry company with "illegal state aid" has been rejected by the European Commission.
Belgian firm TransEuropa owed the Thanet District Council £3.4m when it went into administration in April.
Thanet Green Party councillor Ian Driver had lodged the complaint, saying the deal to delay payment of port fees at Ramsgate was unauthorised state aid.
The council said it was not state aid and EC consent had not been needed.
The commission said the Belgian-based company also owed about $20m (£12.5m) to Oilchart International, a bulk fuel company.
'Frankly bonkers'
On his blog, Mr Driver wrote: "This is an absolutely staggering amount of money."
In July Mr Driver called for a council inquiry, saying the deal over the payment of the port fees at Ramsgate was kept secret for three years.
It only came to light when the firm went out of business in April, ending the only ferry service from the Port of Ramsgate.
In July Thanet council said the matter was commercially sensitive and the calls for an inquiry were rejected.
Writing after the EC ruling, Mr Diver said: "Quite frankly Thanet was bonkers to defer payments for anything more than an extremely short period and certainly not for three years."
No-one from Thanet District Council was available for comment.