Dogfish sharks washed up along Herne Bay beach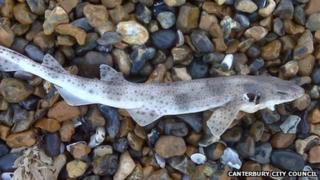 More than a dozen dead dogfish sharks have been washed up on a Kent beach.
Sixteen of the shark species were discovered by a man walking his dog on Herne Bay seafront, between the Neptune car park and Beltinge.
Tom Hawkins, from Canterbury City Council's foreshore team, examined the fish and said they had probably been discarded out at sea by fishermen.
He added that the ones he had seen had been dead for some time and were likely to have been washed ashore by a breeze.