Elves gather in Gravesend for world record attempt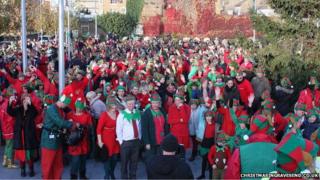 Almost 950 'elves' have congregated in Kent in an attempt to break a world record.
A total of 949 people gathered at Gravesend's community square on Friday in an effort to beat the record for the 'largest gathering of elves'.
Organisers said the participants had to be dressed in red and green to qualify.
According to Guinness World Records, the current record for the largest gathering of 762 elves was set in Carmarthenshire in November 2012.