Shannon superlifeboat arrives at Dungeness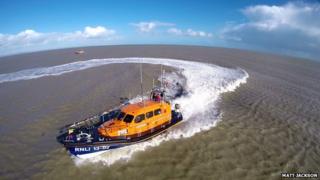 The first of a new generation of superlifeboat has arrived at its new home in Kent.
The Shannon class lifeboat, which costs £2m, is expected to save hundreds of lives around the UK.
Powered by waterjets instead of propellers, the vessel is capable of 25 knots, 50% faster than the lifeboats it will replace.
The first boat, named the Morrell, will become operational in Dungeness next month.
RNLI officials said the Shannon is the lightest and most agile all-weather lifeboat in the charity's fleet, and can reach casualties stranded in shallower waters.
More than 50 of the lifeboats will be stationed around the UK over the next 10 years.
They will eventually replace many of the Mersey and Tyne classes, which are only able to reach 17 and 18 knots.
'So pleased'
The Morrell is named after the family of Barbara Morrell, from Bromley in south-east London, who died aged 95 in 2009.
She asked that her legacy of more than £6m to the RNLI, fund a lifeboat for Kent.
Dozens of people gathered on Dungeness beach to see the Morrell come ashore earlier.
Jackie Simmons, from Bromley, a friend of Mrs Morrell's for 26 years, said: "She was a committed supporter of the RNLI, and would collect money for them and attend local functions.
"Barbara was someone who enjoyed her cruises but she didn't waste anything.
"She was just a lovely woman, and she would be so pleased about today."
Peter Dawes, regional operations manager for the RNLI, said: "It's a fantastic day for the station - not only a new lifeboat but a new class of lifeboat.
"We hope it will increase the capability of the crews and save more lives."