Revamped Gillingham mosque opens its doors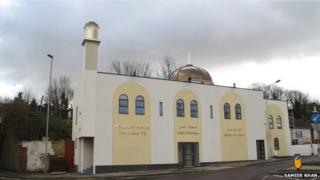 A revamped mosque has opened in Kent and was inaugurated by the worldwide leader of the Ahmadi Muslim movement, community leaders have said.
The Kent Ahmadiyya Muslim Association (AMA) has used a building on the site in Gillingham for 30 years. That has now been refurbished and turned into the Nasir Mosque.
Hadhrat Mirza Masroor Ahmad officially opened the mosque.
Organisers said he was promoting a message of peace.
'Beyond our dreams'
Spokesman Dr Zahid Khan said: "He is the worldwide leader of the Ahmadi Muslims, the supreme head.
"For him to come to Gillingham to open a little mosque here is something beyond our dreams."
He said the refurbishment had been funded entirely by donations from local members and had cost just under half a million pounds.
"We are very excited about it," Dr Khan said. "It is something we have been waiting for, so spirits are very high."
He said the building was important to people because it was their home and part of their lives, and also a legacy that they wanted to leave behind.
Sheikh Naseer Ahmad, president of the AMA Kent branch said any person from any faith would be allowed to visit and even pray.
He said the opening of the mosque coincided with the 50th anniversary of the AMA Kent branch.
The Nasir Mosque in Richmond Road, which used to be known as the Nasir Hall, will have a capacity of more than 300 spaces for men and women, he added.