Ramsgate live animal export ban 'unlawful'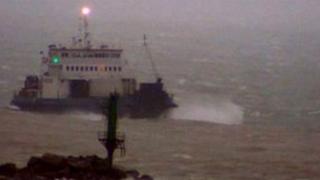 A council has been told it did not have the authority to suspend live exports after more than 40 sheep died while being transported.
The High Court ruled the ban through Kent's Port of Ramsgate, imposed by Thanet District Council was unlawful.
Mr Justice Birss said the council was now liable to pay damages to three companies.
The council imposed the ban in September 2012 after three sheep drowned and 40 had to be put down.
The judge said the ban was a "disproportionate decision reached in haste" without receiving separate legal advice.
He said the move had breached a fundamental element of the rules governing free trade in the EU.
He said: "The animal export trade is not popular.
"It involves activities which are highly distasteful to many people. However, the law does not only exist to protect the interests of the popular."
'Horrific slaughter'
Councillor Michelle Fenner said the authority was "extremely disappointed" by the ruling.
She said: "Our position has always been to work within the legal framework to ensure the welfare of animals and to highlight the ill-treatment of animals in transit.
"The decision to impose the temporary ban in 2012 was not taken lightly and was supported by legal advice following the horrific slaughter of more than 40 animals at the port.
"We took this action at the time to protect the welfare of animals and to protect our members of staff as there are no suitable facilities in place at the port."
The size of the damages to be paid to the companies affected by the ban, Barco de Vapor BV, Onderwater Agneaux BV and Johannes Quirinius Wouterius Maria Onderwater, is still to be decided.
The firms had previously said the ban, which lasted for about a month, cost them about £1.5m as it coincided with the Muslim festival of Eid.
Earlier this month, Thomas Lomas, the boss of Kent company Channel Livestock, admitted transporting the animals in a way likely to cause undue suffering.
He was given a six-month prison sentence suspended for two years and ordered to pay £5,000 costs by Dover magistrates.