Bethany Freeman inquest: St Jude storm death 'misadventure'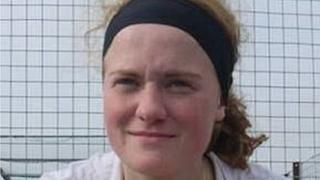 A coroner has recorded a verdict of death by misadventure after a teenager was crushed when a tree fell on the caravan she was in during a storm.
Bethany Freeman, 17, was killed when the St Jude storm battered England last October.
She had been sleeping in the caravan near Edenbridge, Kent, while the nearby family home was undergoing renovations.
Post-mortem tests showed she died from "hypoxic brain injury as a consequence of a crush injury to her chest".
A 30ft (9m) tree fell down in high winds in Lydens Lane in Hever on 28 October.
The inquest at Tunbridge Wells police station heard that Bethany and her brother Guthrie had been to Wembley Stadium to watch the NFL San Francisco game that night, before returning to Hever.
'Appeared unmarked'
The family realised the tree had fallen down when they heard a "loud crack" at about 07:20 GMT the next morning.
Det Sgt Sarah Niblock told the hearing: "Through the wreckage they could see her foot. Her mother tickled it knowing she was very sensitive to that."
A tractor owned by a nearby farmer was used to lift part of the tree and allow emergency crews to put Bethany's body on a stretcher and carry out CPR but she was pronounced dead at 08.30 GMT.
Det Sgt Niblock said she appeared "unmarked" apart from a small cut on the right of her torso.
'Absolutely devastated'
Recording a verdict of misadventure, North West Kent coroner Roger said: "It was well known that on October 28 of last year, this country was subject to extremely high winds which adversely affected the tree in a neighbouring garden which was brought down and unfortunately and tragically landed on the caravan occupied by Bethany."
During the storm, winds of up to 100mph swept through parts of Britain, uprooting trees, knocking out power supplies and crippling transport networks.
Her mother, Tess Peirce said at the time: "We are all absolutely devastated at the loss of my daughter.
"I would like to thank the emergency services for their tremendous efforts in attempting to save her."
A sports enthusiast, Bethany represented the county and local clubs in hockey, cricket and netball.