Tunbridge Wells redevelopment plan unveiled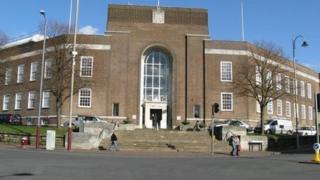 A proposed "cultural hub" in the centre of Tunbridge Wells will be a destination for visitors from all over the world, the leader of the borough council has said.
The redevelopment proposals include a revamped theatre and a shared space for cars and pedestrians.
The plans are part of the council's new vision for changes over the next five years.
But some people said the plans focused on the wrong areas.
David Jukes, leader of the Conservative-run council, said he wanted to make the town "more attractive" for locals and visitors.
He added: "What I want to actually do is make a cultural hub in the middle of Tunbridge Wells where the current library and the education centre is, which will be a destination for visitors from all over the world."
'Constant nightmare'
The plans include a shared space in the Five Ways area, and an art gallery along the lines of the Turner Contemporary in Margate, where the council can display its own collection.
Simon Colbran, owner of the Smart and Simple Hotel in London Road, said parking and traffic were a "constant nightmare" that put visitors off returning.
He said it needed to be sorted out before moves were made to attract even more people.
Restaurant owner Matthew Sankey added: "I don't see why we need to fix something that isn't broken.
"There are broken parts of the town - not just the cinema site, that leads all the way down Mount Pleasant Road.
"It's the whole area, the whole expanse of the town is dead and that needs fixing, not Five Ways."