New Chartwell cat Jock VI moves to Churchill's old home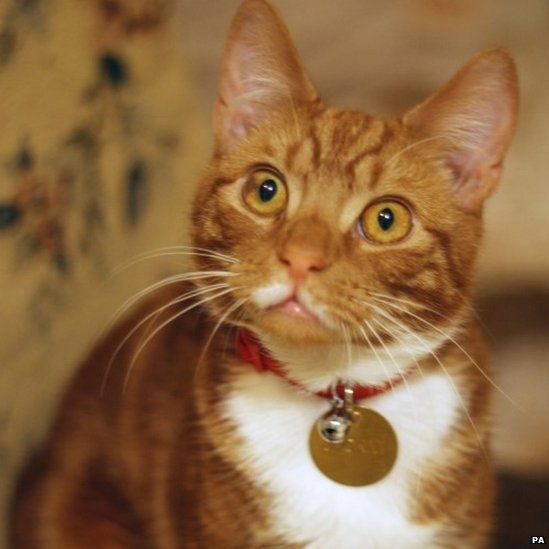 A rescue kitten has taken up residence at Sir Winston Churchill's former home to honour a request made by the wartime leader.
Churchill asked that there always be a cat with four white paws and a white bib residing at Chartwell in Kent.
The former prime minister was given a marmalade cat by one of his private secretaries, Sir John "Jock" Colville, for his 88th birthday in 1962.
The cat, named Jock, attended many cabinet meetings.
It was rumoured that meals would not start until the pet was at the table.
The National Trust, which was left the property by Churchill's family in 1966, has always honoured the request.
This month, it welcomed seven-month-old Jock VI after Jock V left when its owner, the former house and collections manager at the property, departed for the Scottish countryside.
The kitten, or Malley as he was previously known, was rescued by Croydon Animal Samaritans before being adopted by Chartwell's house and collections manager, Katherine Barnett.
Trust officials say he takes afternoon naps, eats tuna and lounges on Persian rugs at the house.
"It's a modern-day rags-to-riches story," Ms Barnett said.
"Jock VI has had a difficult start to his life but, as the saying goes, a cat will always land on its feet.
"He's a very caring, loving cat and I think our visitors will get lots of enjoyment from seeing him around the property for many years to come."
Related Internet Links
The BBC is not responsible for the content of external sites.