Medals stolen from 100-year-old Kent war veteran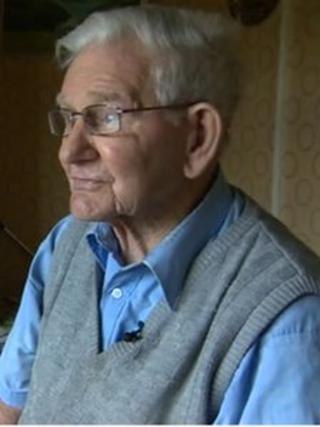 War medals belonging to a 100-year-old veteran and his father have been stolen from his home in Kent.
Leslie Stelfox discovered they were missing from his home in Cherry Close, Sittingbourne, after he returned from a British Legion function on Tuesday.
"I was going to give them to two of my nephews... you want to look back to see them," he said.
Det Ch Insp Ann Lisseman, of Kent Police, said the crime was "despicable" and the thieves had "no moral respect".
Up to £400 in cash was also stolen in the burglary, which happened at about 18:40 GMT.
Some of the medals have Mr Stelfox's war service number on the back - 4124264.
"They're gone, and you look in the cupboard now and don't see them," he said.
Kent Police are linking the burglary with another in the same street the following evening.
A diamond ring worth £400, a camera, a Nintendo Wii and a clock were among items stolen from the home of a 75-year-old on Wednesday.