Ebbsfleet city plan criticised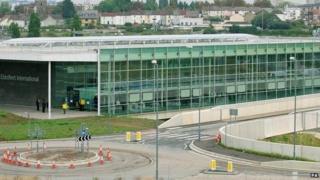 The shadow communities secretary, Hilary Benn, has criticised Chancellor George Osborne's plan for a new garden city in Ebbsfleet, Kent.
Before the Budget, Mr Osborne announced an initial 15,000 homes would be built. However, ministers had agreed plans for more than 20,000 homes in 2012.
Mr Benn told the Commons the plan was smaller and not "a triumph".
However, Communities and Local Government Secretary Eric Pickles defended the plans.
Mr Benn, the Labour MP for Leeds Central who was returning to the Despatch Box for the first time since the death of his father, former Labour cabinet minister Tony Benn, said: "Last week, the chancellor announced there would be a new garden city at Ebbsfleet with 15,000 homes.
"The only trouble is that's 5,000 fewer homes than the 20,000 home plans announced for Ebbsfleet in December 2012.
"Only this chancellor could proclaim a smaller development as a triumph - backwards not forwards."
Speaking earlier in the resumed Budget debate, Eric Pickles, Secretary of State for Communities and Local Government, defended the plans.
He said: "We are supporting the first garden city for a generation at Ebbsfleet."
"Decisive action and investment which Labour failed to deliver.
"Originally announced in John Prescott's 2003 sustainable communities plan, the Labour Party failed to build on Ebbsfleet."