Tunbridge Wells 'grot spot' cinema to be demolished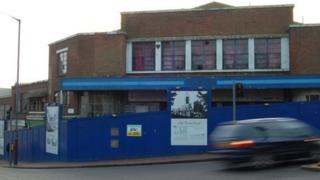 A derelict town centre cinema in Kent is set to be pulled down after the owners decided not to appeal against a demolition order.
The former ABC cinema in the centre of Tunbridge Wells has been derelict for nearly 14 years despite a number of demolition and redevelopment plans.
Lib Dem Councillor Ben Chapelard has previously called it the town's "number one grot spot".
Owners Carlyle and Bellhouse confirmed it will demolish the cinema.
Demolition to start
In February, the Conservative-led borough council issued a Section 215 notice on the owners.
A spokesman for Carlyle and Bellhouse, said: "We are still concluding our negotiations with Natural England, regarding the future welfare and safety of a colony of bats nesting in the premises, and Network Rail.
"It remains our intention to start work by the end of March with an initial focus on those areas unaffected by these discussions."
He said the tendering process for the demolition work had been completed and a detailed programme was being prepared.
Mr Chapelard said: "We are going to keep up the pressure as this is not a victory, merely a step in the right direction. We will celebrate when there's something there that the town can be proud of."