KLM suspends flights from Manston Airport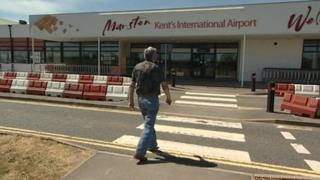 Dutch airline KLM has announced it is suspending flights from a Kent airport which is threatened with closure.
Last week a 45-day consultation began at Manston Airport which was bought by Stagecoach co-founder Ann Gloag in October 2013.
On Wednesday KLM said it was suspending its Cityhopper flights between the airport and Amsterdam from 10 April.
The airline added the passengers currently booked on or after that date could rebook from Heathrow.
In a statement, KLM said: "The continuous uncertainly surrounding the future of the airport means KLM Cityhopper is unable to guarantee that flights to serve KLM passengers can be operated."
The airline started running two daily return flights from Manston at the beginning of April 2013.
The 144 staff have been told it could close but on Tuesday, Thanet North MP Sir Roger Gale said a possible buyer had been found for the airport.