Manston Airport purchase-offer letter sent to owner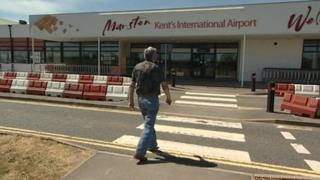 A letter offering to buy a Kent airport threatened with closure has been sent to the owner Ann Gloag, co-founder of the Stagecoach Group.
Conservative MP for North Thanet, Sir Roger Gale, said the offer for Manston Airport was made at midday.
"I wouldn't begin to suggest that this is a done deal, but an offer has been made and I hope that the owner will respond positively," he said.
A 45-day consultation on the airport closure with its 144 staff is ongoing.
'May get result'
The loss-making airport was bought by Ms Gloag for a £1 in October last year.
Sir Roger said he was "not privy" to the details of the offer but hoped a resolution could be found.
"I hope it will be given serious consideration and I'd like to think that the notice of redundancy that has been issued will be withdrawn to give the chance for proper negotiations to take place," he said.
"If both sides work to a common objective, which is to keep Manston Airport open and flying, then we may yet get a result."
If the deal is not agreed however, chief executive Charles Buchanan said the airport could close as early as 9 April.
On Wednesday, Dutch airline KLM said it was suspending its Cityhopper flights between the airport and Amsterdam from 10 April.
'Room for more planes'
A petition to keep the airport open has now gained more than 12,000 signatures.
Supporters believe it could bring jobs to a deprived area and benefit residents who would otherwise have to travel to Heathrow or Gatwick.
Nicholas Reed, of the Why Not Manston campaign, said: "There's room for a hundred times more planes here than there is at the moment.
"It's very close to the edge of land. You go straight out over the sea and indeed it's got some of the best weather in the country.
"It's quite breezy here, which means there's far less fog than tends to afflict places like Heathrow or Gatwick."