Eurostar evacuated at Ebbsfleet after engine fire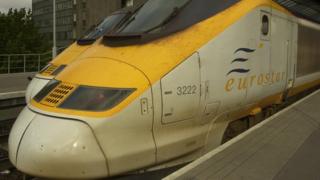 Passengers had to be evacuated from a number of carriages on a Eurostar service after smoke was seen coming from the train.
Five fire engines were sent to Ebbsfleet station in Kent because of an electrical fire in the train's motor room, which started at 09:30 GMT.
The Brussels-bound train left St Pancras in London at 08:58 GMT. No-one was hurt.
The train was removed from service and a replacement went on to Belgium.
It was the second successive day of disruption for the Channel Tunnel high-speed train company.
On Thursday, hundreds of passengers were delayed after a lightning strike triggered a fire in a building close to the entrance to the tunnel in Kent.
Three London-bound services and one Paris-bound train were affected.
The London-bound trains arrived at St Pancras by 01:40 GMT, but the one heading to France was forced to return to London.