Destroyer launch marked 70 years on at Chatham dockyard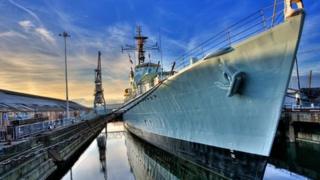 The 70th anniversary of the launch of the Royal Navy's last operational World War Two destroyer is being marked on Saturday in Kent.
HMS Cavalier was rotting in a dry dock on Tyneside until 1999 when she was bought by Chatham Historic Dockyard, transported to Chatham, and restored.
It has since been a memorial to the 142 Royal Navy destroyers lost during the war and the 11,000 men who died.
A church service is being held and a parade through the dockyard.
Vice Admiral Sir Jeremy Blackham, said: "It is one of only two ships still surviving form the Second World War, the other being HMS Belfast in London, and it is a symbol of the very large number of destroyers which were lost.
Active role
"She is quite an important memorial and - for the people who served on her - much more than that."
HMS Cavalier was launched on 7 April, 1944, as one of 96 emergency destroyers ordered for the war in 1942.
She was built in 1944 at Samuel White's Isle of Wight yard and served during the war in the Arctic and the Western Approaches before joining the British Pacific Fleet as the war came to a close.
Refitted and modernized in 1957 she continued to play an active role as part of the Royal Navy's Far East and Home fleets until 1972.
The anniversary celebrations have been organised by the HMS Cavalier Association and the Royal Navy with the involvement of the ship's company of HMS Lancaster.
The vessel is the focus of several learning projects at the Kent dockyard.
On Monday, the 30th anniversary of the closure of Chatham dockyard was marked.