WW1 Shorncliffe Army camp 'under threat', say campaigners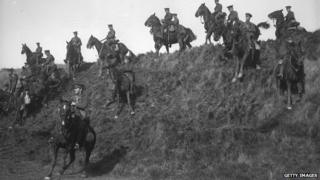 Before being sent to the Western Front, thousands of new recruits were sent to a training camp to prepare them for trench warfare. However, campaigners now fear the remains of this World War One heritage face being irreparably damaged.
"It was the gateway to the trenches in the First World War," says Chris Shaw, from the Shorncliffe Trust, a charity which hopes to preserve the heritage of the Shorncliffe Garrison, near Folkestone, Kent.
"Thousands and thousands of men got off at the station at Shorncliffe, walked to the barracks, put on their uniform to go train in the [practice] trenches."
He believes it is under threat from plans to build 1,200 new homes.
"Heritage will be lost, without a doubt," he said.
"The Canadian war horse headquarters and barracks will be demolished. Instead, that should be a war horse museum and active stabling at the same time."
However, the Ministry of Defence (MoD) has said important heritage sites at the camp will be saved.
The remains of the trenches, used by British and Canadian soldiers, are only part of the site.
During the Napoleonic Wars a fort was built, which is now covered with bushes and trees.
And it was at the camp that General Sir John Moore trained light infantry, which went on to fight at Waterloo.
Currently the camp is used by The Gurkhas.
Rory Mackenzie, a former Army medic who lost a leg in Iraq and is patron of the trust, said: "The history [of the site] is incredible - hundreds and hundreds of years.
"In fact you could quite easily call it the birthplace of the British Army."
He said there was a connection between today's soldiers and their counterparts throughout history.
He said: "We march the same march as them we are the same people. Soldiers are soldiers, we're a certain personality."
A spokeswoman for the MoD said: "Preserving heritage has been an important part of the Shorncliffe Rationalisation Project and has been taken into consideration when planning for the 1,200 new homes.
"The MoD identified a number of heritage assets in the early stages of the master planning work and there has been significant involvement by English Heritage."
She added that several buildings on the site have been newly listed because of this. These include the Sir John Moore Library on Somerset Barracks and the entrance gates into Risborough Barracks.
The fort has also been scheduled as an ancient monument.
But Andrew Morgan, a military historian, said: "You only get one shot of keeping some of the more historic and valuable buildings and this is it.
"We must ensure we keep some of the legacy for our children grandchildren and into the future."