Harjit Chaggar death: Mohammed Islam 'not a violent man'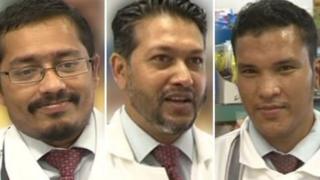 A man accused of murdering a grandmother who was left to die in the basement of a Kent shop has told a court he had no reason to kill her.
Mohammed Islam, 29, from Gillingham, denies attacking Harjit Chaggar along with two other workers at the Chatham store, last September.
Speaking through an interpreter, he told Canterbury Crown Court he was not a violent man.
Abdul Hannan, 44, and Murshed Miah, 38, from Maidstone, also deny murder.
All three also deny preventing Mrs Chaggar's lawful burial, along with a fourth defendant, Rasad Miah, of Chatham.
Mr Islam worked as butcher at the Sani Globe food store in Luton Road at the time Mrs Chaggar disappeared on 2 September.
The prosecution say she spent 10 minutes at the store that day. Her badly decomposed body was found in the cellar 12 days later.
Mr Islam told the court he had worked at the shop since 2008.
He denied he had a "guilty secret" about Mrs Chaggar.
Oliver Saxby QC asked him: "Did you have any reason to kill her? And do you know how Harjit Chaggar's body came to be in the cellar of the shop?"
Mr Islam replied: "No, I didn't know her. Why would I kill her? I saw the body. That's all."
The trial continues.