Parts of Kent at risk of further flooding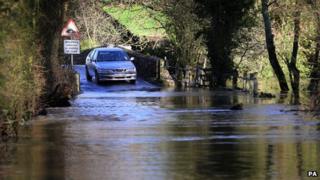 Parts of Kent remain at risk of flooding four months after some of the heaviest rainfall in a decade, the Environment Agency has said.
The agency's operations manager Ian Nunn said groundwater in parts of mid and east Kent was still causing "some element of concern".
"If we were to have a couple of days of really heavy rain, I think there's still a risk," he said.
More than 600 homes in the county were flooded during the winter storms.
Mr Nunn said: "In east Kent we've only just removed the last two pumps from Bridge, where we were pumping continuously for three months to protect the village.
"Flows are still high - much higher than we would normally expect.
"There is still a reducing risk of flooding to property although it is reducing with time," he added.
"Every sunny day we have is helping reduce the groundwater levels."