Family takes legal action after Maidstone Hospital death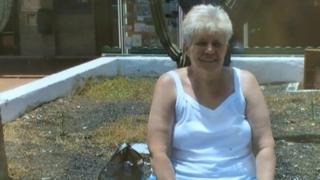 The family of a grandmother who died after she fell and hit her head in hospital is taking legal action against an NHS trust.
Sheila Acott , 67, died on 14 February 2013 after falling while standing unassisted at Maidstone Hospital, Kent.
Her family believes her death could have been prevented if staff had shared information about her risk of falling.
Maidstone and Tunbridge Wells NHS Trust said it had introduced a series of measures.
Accidental death
When Mrs Acott was admitted to hospital, she had been assessed as having a high risk of falling.
Mid Kent and Medway coroner Patricia Harding recorded a verdict of accidental death earlier. She said that if the nursing staff had known of Mrs Acott's high risk of falling, on the balance of probabilities, her fall could have been avoided.
Nicola Davies, Mrs Acott's daughter, said: "She was left standing at a nurses' station when she was a high-risk patient and with nobody standing behind her or beside her.
"My mum was very unsteady on her feet... She had a massive fall and a blow to the head."
The family is lodging a civil claim for damages against the trust.
Maidstone and Tunbridge Wells NHS Trust said: "The trust has introduced a series of new measures. On admission, clinical staff carry out a comprehensive falls risk assessment on the patient.
"Those at high risk of falling are given a blue wrist band. This enables staff to quickly identify the patients that need extra support and assistance with certain tasks."