New Channel Tunnel power grid link scheme unveiled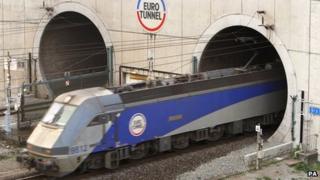 A project has been unveiled to link the UK and French power grids through the Channel Tunnel.
The Eleclink scheme will start construction later this year with 32 miles of cables carrying 50% more electricity between the two countries.
It is a joint venture between Star Capital and the operators of the Channel tunnel, Group Eurotunnel.
The 1,000MW interconnector project was given approval by energy regulators on both sides of the Channel.
'Right climate'
Eleclink said the benefits of the scheme included a greater security of supply and contributing to the development of a European single market in electricity as well as reducing carbon emissions.
Chief secretary to the Treasury Danny Alexander has praised the scheme.
Speaking to Eurotunnel staff at Folkestone, Kent, he said: "Investing in our infrastructure is a vital part of our plan to repair and rebalance the British economy.
"The government is investing public money and creating the right climate for business investment infrastructure."
Eurotunnel also announced an expansion plan which it hopes could see the end of Operation Stack.
The operation involves parking lorries on the M20 coast-bound when the Channel Tunnel, English Channel or Dover port are shut to traffic.
The firm is doubling the number of lorries it will be able to handle on site to about 600, reducing the need to park lorries on the motorway during disruption.
Mr Alexander said building additional lanes would help ease the pressure on the local transport network when things go wrong.
Regulators Ofgem in the UK and CRE in France gave the Eleclink scheme approval.