Celine Dion fan banned from playing music after complaints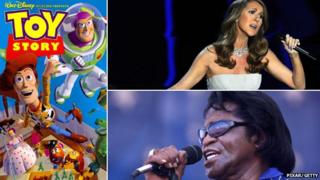 A man has had thousands of pounds worth of music equipment seized after continuously blasting out Celine Dion's My Heart Will Go On.
The man, from Hone Street, Strood, breached a noise abatement notice six times, and made his neighbours' lives a misery, Medway Council said.
He was also caught playing James Brown's Love Machine and the theme tune to Toy Story.
The equipment seized included a 3D TV, laptop, speakers and a PlayStation 3.
He also had a docking station, 32 DVDs and a number of CDs taken.
'Right to peaceful existence'
The council said officers had noticed music being played in the afternoon and early evening.
The equipment is now in storage and after 28 days the man, who is in his 40s, can apply for its return.
Peter Hicks, who is Medway Council's portfolio holder for community safety, said: "It only takes one complaint, as in this case, and we will act.
"People have the right to lead a peaceful existence without it being ruined by loud music.
"We won't tolerate this sort of behaviour and anyone who blasts out music or creates other noise nuisance should let this be a warning to them."