Volunteers 'reeling' over Canterbury hospice fate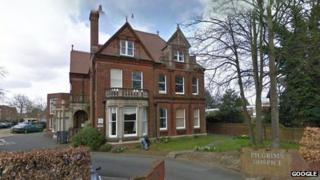 A volunteer at a Kent hospice that is due to close in two years' time has said decisions over its future are being made by "faceless bureaucrats".
Keren Tattersall said volunteers were "reeling" at the news that Pilgrims Hospice in Canterbury will close to inpatients in 2016.
A hospice spokesman said patients and their families increasingly wanted and needed care in their own homes.
Ms Tattersall claimed volunteers were organising a protest against the plans.
Beds will be kept at the centres in Ashford and Thanet.
Ms Tattersall said that the more than 100 volunteers were "devastated" at the news.
She added that there was no representative for the volunteers on the board of trustees.
"Most people in Canterbury will know somebody who's been involved in the hospice care," she said.
"We are there for the patients."
'Horrendous experience'
The Save Pilgrims Hospice Canterbury Facebook page has so far attracted more than 3,500 likes and a petition set up in a bid to stop the closure has over 4,000 signatories.
Abi Calder, a former nurse at the hospice, said the closure was "shocking news for Kent".
"What about the patient's choice and the family's choice not to be a caregiver?" she said.
"Being at home alone with somebody who's dying isn't as easy as it sounds.
"It changes the relationship between the people... that is a horrendous thing to experience."
The hospice said it will retain a staff and volunteer education base in Canterbury .
In a statement, it said: "The new strategy, which has been developed over the last year by over 50 staff and volunteers, will allow Pilgrims to redeploy more staff into the heart of the communities in East Kent."
The charity has running costs of more than £10.5m each year, with 75% of funding coming from the local community and the remainder being contributed by the NHS.
The Canterbury building is the oldest and least practical of its three properties, the hospice added.