Simon Olsen jailed for murdering former boss Steven Langley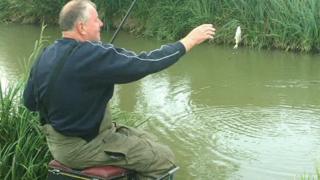 A former employee has been jailed for life after pleading guilty to murdering the boss of a Kent fishing business.
Simon Olsen, 54, shot Steven Langley with a double-barrelled shotgun in the tackle shop at Bax Farm fisheries in Tonge, on 29 November.
Kent Police said Olsen had been fired three years ago and became convinced Mr Langley, 57, was laughing at him behind his back.
Maidstone Crown Court ordered Olsen to serve a minimum of 25 years.
Former firefighter Mr Langley built up the fisheries near Sittingbourne after starting the business with a friend in 2000.
Erratic and aggressive
He employed heavy drinker Olsen as a bailiff, giving him a cottage on the land, in 2003.
Police said Olsen was fired after his behaviour became erratic and aggressive but was allowed to stay in a caravan on the site.
He was served with an eviction notice by the landlord in November after he fell behind with rent and in the weeks leading up to the murder complained Mr Langley was making jokes about him.
He said he wanted to kill his former boss but was not taken seriously because he had made such threats before.
Det Insp Gavin Moss said Olsen directed years of pent-up rage at Mr Langley.
'Somehow, Olsen convinced himself that shooting Mr Langley was the only way to end the troubles and told his friends that at least in prison he'd have a roof over his head," he said.
'His paranoia and refusal to see sense led him to pick up the shotgun that day, walk into the shop and shoot Mr Langley point-blank in the chest."
Mr Langley's wife Lucia said the family was pleased the killer could not now harm anyone else.
"My husband's life was ended because one insignificant nobody, a coward, planned and executed an innocent and defenceless man in cold blood," she said.
"Steven was a loving and caring husband, father and grandfather.
"Unlike his killer, we cannot look forward to a parole date from the life sentence which has been imposed on me and my family.
"Steven will never be forgotten and will live forever in our hearts."