Sapper Josh Thomas drowned after celebrating exam success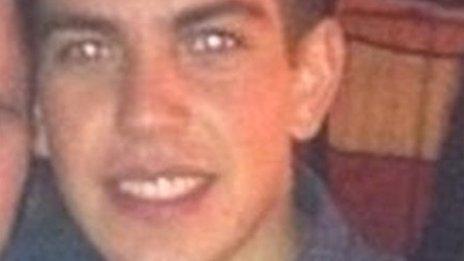 A soldier drowned by falling into the River Medway when he was drunk after a night out celebrating exam success, an inquest has heard.
Josh Thomas, from Neath Port Talbot, was spotted on council CCTV cameras and by a member of the public, who rang the police to report his behaviour.
But the coroner was told Kent Police did not have a patrol car available to send to the scene.
A verdict of accidental death was recorded on the Chatham-based soldier.
Sapper Thomas, who was serving with the Royal Engineers based at Brompton Barracks, was described as a committed soldier.
The inquest was told that after the night out in April 2013 three of his friends left him in Rochester.
He was later seen by a Medway Council CCTV operator falling through a girder on Rochester Bridge, then getting up again.
The operator said he told police about the incident but the inquest heard police could find no record of this.
The soldier's body was found nearly three weeks later in the river off Rochester Pier, close to where he disappeared.
A pathologist's report found he died from immersion and alcohol intoxication.
Assistant coroner Alan Blunsdon said Sapper Thomas had consumed much more alcohol than was good for him and either slipped or fell into the river and drowned.
Following the verdict, Medway Council said its CCTV operators contacted Kent Police's force control centre to see if officers could assist him.
"Kent Police were not able to send an officer following this request," it said in a statement.
"Our operators continued to monitor Josh and fed back live images.
"Our CCTV operators continued to monitor Josh until he walked away from the bridge, which was when he went out of view."
A spokesman for Kent Police said: "The inquest proved Kent Police did everything in accordance with force policy in this case and the circumstances, and there has been no criticism of police or the Army."
Related Internet Links
The BBC is not responsible for the content of external sites.